01235 838 500 – 8.30AM-5.00PM
01235 838 500
BOOK A TOUR

Innovation & Growth Workshop
May 18 @ 12:00 pm

-

2:00 pm

Free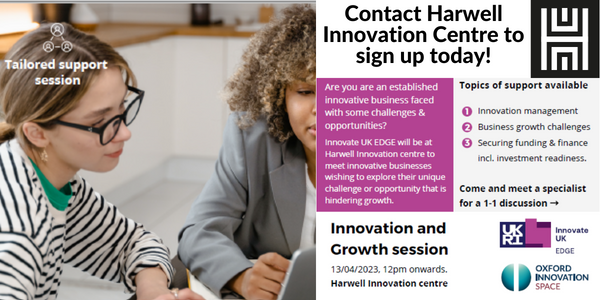 Innovate UK Edge is an organization that helps businesses in any industry to achieve their growth and scaling objectives. The organization provides a wealth of resources and expertise to help companies achieve their goals, whether it's through funding support, innovation management, or other growth-related strategies. As a leading innovation agency in the UK, Innovate UK Edge is well-placed to offer guidance and support to companies of all sizes and stages, from start-ups to established enterprises.
The Harwell Innovation Centre is proud to offer a free workshop in partnership with Oxford Innovation Finance. The workshop is designed to provide valuable guidance on a range of topics that are essential for businesses seeking to scale and grow. Attendees will have the opportunity to learn about securing funding and finance, investment readiness, business growth, and innovation management. This is an ideal opportunity for businesses looking to explore new ways to accelerate growth, improve their operations, and enhance their overall competitiveness.
In addition to the workshop, attendees will also be treated to a complimentary pizza lunch. This is an excellent opportunity to network with other business leaders and exchange ideas, insights, and experiences. Attendees will also have the chance to book a one-to-one session with an innovation and growth specialist from Oxford Innovation Finance. During this session, businesses can discuss their personal challenges and opportunities with an expert who can provide tailored guidance and support.
To book a free one-to-one session contact Michelle Webb the Centre Manager at Harwell Innovation Centre.
Email: MWebb@oxin.co.uk
Telephone: 01235 838500