Head-to-Head: Orbastro
November 1st 2019
Orbastro moved into the Innovation Centre back in May 2019. This was the first dedicated office space they had occupied. Since then, they have really flourished, and the business has grown from strength to strength.
I caught up with Ash earlier this month to ask him to tell us a little bit more about the exciting journey his company is on: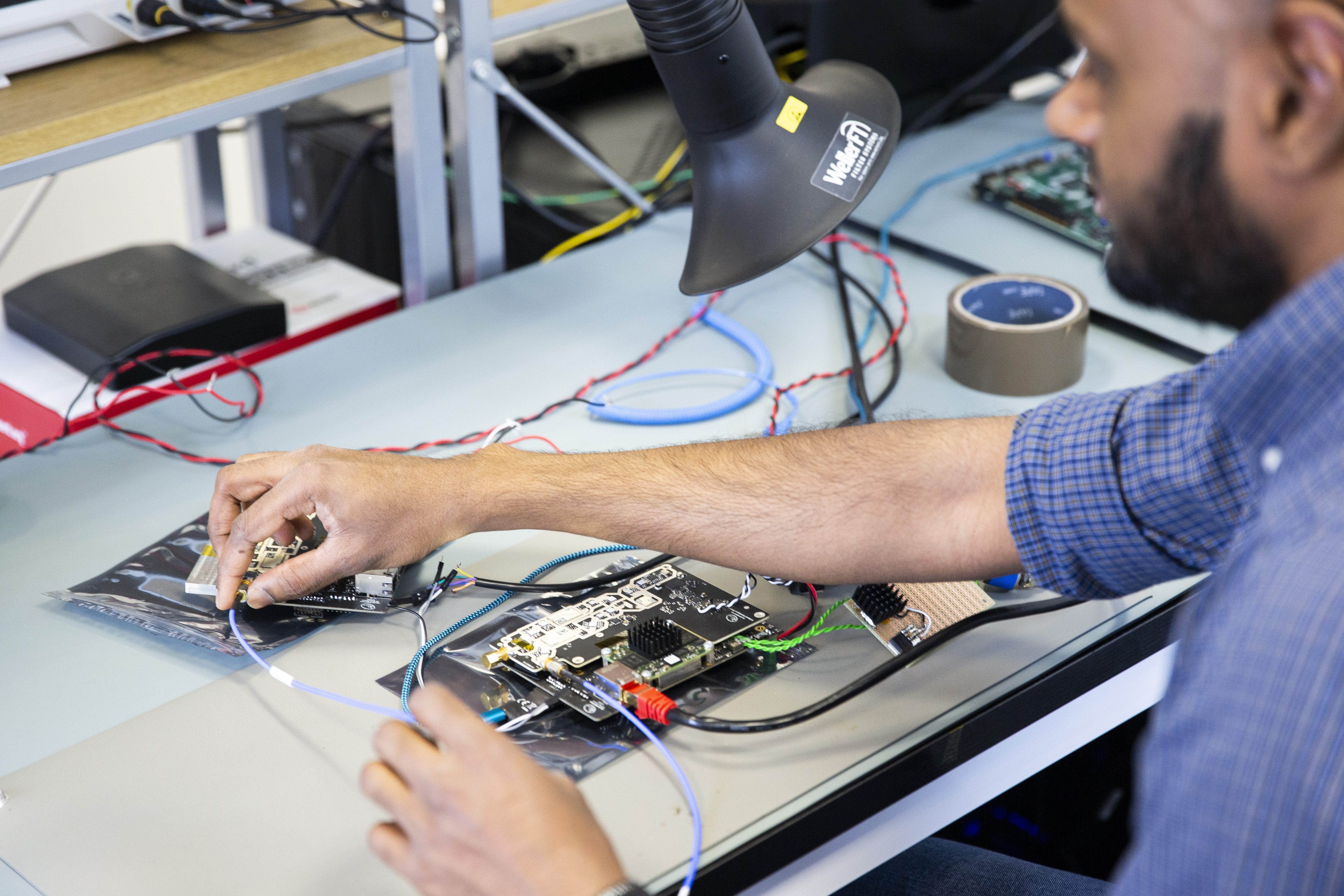 How did you start your company?
We've been toying with what one could do with tiny satellites for a while. It's pretty obvious they're going to play a major role in reshaping many existing space markets over the coming decade. And they're going to enable the emergence of some really quite profound capabilities.
The issue is, you tend to need a flock of tiny satellites to do anything meaningful, and very few people are working on filling the technology gap between operations of a single tiny satellites and operations of a flock. There is a lot of room for improvement on this front.
On this premise, we secured a contract with the UK Space Agency and European Space Agency. This enabled us to officially kick off as a start-up.
What are you working on at the moment?
We're developing the onboard hardware and software required to wholly enable tiny satellites to operate in large flocks. This involves active formation-flight capabilities, inter-satellite communications, and autonomous flock management. This manifests itself as a plug-in module for the satellite, about the size of a cup of tea.
What projects/ambitions do you have for the future of your company?
We've recently secured several more government contracts that will see us through to flight-ready status. Our ambition is to demonstrate our technology in-orbit in the coming couple of years, and really drive home how much more capable flocks of tiny satellites can be than most people in the industry realise.
We see ourselves as becoming an upstream supplier of "Flocking Modules" in the near-term. Just over a hundred space companies have voiced they need flocks of tiny satellites to do what they want to do, and that number is growing quickly.
Beyond this, we will become our own customer. We've always got several compelling mission concepts or business cases bubbling away in the background that would not be possible without the technology we're developing. Really, that's what kicked this all off.
What do you like about Harwell Innovation Centre?
The staff and management team are truly warm and attentive people. They're very quick to deal with any queries or requests. We feel looked after.
The building itself has a good feel to it. There are plenty of local conveniences, and a lot of greenery which is great for lunchtime walks.
The building is located on the edge of the campus which is ideal. You're not overwhelmed with conferences, construction disruptions, or battles for parking, but you're a 10-minute stroll away from all the facilities and activities if you need to dip in.
Interested in joining a community of businesses just like Orbastro? Harwell Innovation Centre has a variety of flexible options to suit you and your business. Find out more by calling 01235 838500 to talk to a member of our team to discuss your options. 
More Case Studies
October 25th 2023
5 Minutes with… Smith Robotics Ltd
We sat down with Ryan & Katie Smith from Smith Robotics Ltd for 5 minutes to discuss and explore future plans for their company.                                    How did you start your company? Our company […]
March 31st 2023
5 minutes with Voltvision Ltd
We sat down with Malcolm Evans and Manoli Yannaghas from Voltvision Ltd for 5 minutes to discuss and explore future plans for their company. We even found out that Malcolm loves the goat curry from DiSH!
January 11th 2020
Head-to-Head: Future Trees Trust
Future Trees Trust moved into the Innovation Centre back in June 2019.  They have been a welcome addition to both the centre and the campus community. I caught up with Dr Jo Clark in December to find out a little bit about the work that the trust do. Future Trees […]